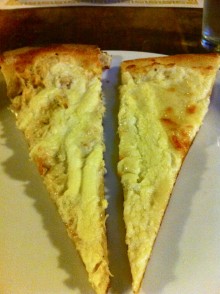 Once in every generation, a great new idea is unleashed upon the world. The steam engine. The printing press. Penicillin. All-you-can-eat Brazilian pizza. That's right, that list of great ideas now has company and it comes in the form of Bella Vista, a somewhat new restaurant in Culver City. As if combining the awesomeness of Brazilian food with phenomenon of pizza wasn't enough, Bella Vista took the combination one step further by offering it rodizio-style, which is basically the Brazilian version of a buffet, but with the added bonus that the food is brought to you, rather than forcing you to do actual work. Oh and all that only costs $12.99.
Throughout the dinner, I experienced some pizza I had never seen before in my life and all devoid of tomato sauce. So here's the breakdown of what I found to be awesome. First off was any pizza that used a cheese called catupiry. This creamy Brazilian cheese added a dimension of taste to any pizza it touched that was sort of like goat cheese, but with a grainier and stickier texture. A Bella Vista, this delicious cheese could be found on the Frango com Catupiry and 4 Cheese pizzas. Frango com Catupiry also had chicken and corn, making it a pretty interesting combo you wouldn't find in any ordinary pizza place. The 4 Cheese was what you would expect from any 4 cheese pizza, except that in addition to the more normal mozzarella, parmesan and provolone cheese, catupiry was there to make it uniquely Brazilian.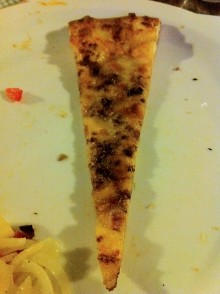 But catupiry wasn't all that made this place special. They also had a crazy Stroganoff pizza, which is exactly how it sounds. Yes, literally beef stroganoff on pizza and topped with mini potato sticks. It wasn't the easiest thing to eat, but it sure tasted good. There was also their Alho Frito pizza, which is just a fancy Portuguese way of saying fried garlic. It was also quite good.
There were definitely some pizzas that weren't quite built for an unvegan, but needed some tasting, such as the Calabreza pizza. This had calabreza smoked sausage mozzarella cheese and onions. In order to eat this, I had to pick out the onions, but it was worth it to give that sausage a whirl.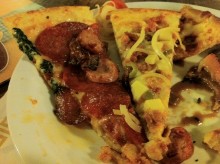 Finally, as things were winding down at the restaurant and we seemed to be the last table standing, our lovely waitress came out to ask us if we wanted anything more. We did, and she said she would have the kitchen make us a pizza just out of the types we wanted. Not surprisingly, I opted for the Meat Lovers pizza. It was made with pepperoni, Brazilian sausage, salami and ham. When it did finally come, I found it was actually the most disappointing pizza of the night. Was it bad? No, in fact it was really good, but it just didn't blow my mind and taste buds like all the unique pizzas I had already eaten that night. If I want a Meat Lovers pizza I can just go to regular pizza place, but at Bella Vista there was no need to waste stomach space on such an ordinary pizza.
But that was not the end of my eating. After the Meat Lovers came it was time for dessert. And what a dessert it was. First off, I tried out the Banana com Calnela pizza. Covered in creamy mozzarella, bananas and cinnamon, this pizza alone would have been enough to close out my meal. Yet, there were still two other dessert pizzas. The second was called Romeu e Julieat, which used guava paste as a sort of sauce underneath a mild mozzarella for a delicious balance. Last, but not least, came the Brigadeiro com Morango. Essentially it was a strawberry and chocolate pizza. It was topped with real strawberries, a chocolate and condensed milk sauce and chocolate sprinkles. It was like the perfect trifecta of dessert pizzas and has probably spoiled me for all kinds of dessert pies in the near future.
Before paying our bill, we even got the chance to chat with Marcelo, the owner of the place. He explained about the freshness of the ingredients and just how much better his pizza was than your average pizza. Normally I would take comments like that with a grain of salt, but considering how amazing the meal had been, it was hard to argue against him.