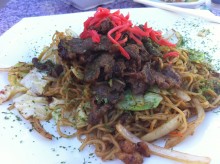 In the heart of LA's Fashion District is a relatively new, yet relatively hidden food court. It is here that you can find a nice variety of foods and kind of escape after eating at one too many taco trucks. The food court itself is outdoors and feels like a world away from the fashion peddlers below. You can find Korean, Mexican and sandwiches up here, but I was pretty much drawn to a Japanese place called Blosom Bento. Sure, they served sushi, but they also had my favorite Japanese dish of all time on their menu: Yaki Soba.
The flavoring of Yaki Soba alone is enough to make my mouth water, but Blosom Bento took their soba one step further and added beef to it. I knew it had to be mine.
Even though the menu said it included "vegetable" I didn't order it without. In my experience, the "vegetable" has always only been cabbage and it's usually easier to eat around it than to explain to a Japanese person that you don't want cabbage in your yaki soba. So I ordered it straight up and then sat and waited with the girlfriend for my Japanese delight to come.
The wait was surprisingly long, and later we were told that one of the cooks wasn't in that day. I accepted the explanation and patiently looked forward to eating some real Japanese food.
When it did come out, it looked like a pretty picture of how yaki soba should be, except there was an additional item: onions. Damn, I had only planned on eating around cabbage, but the onions threw a wrench into that plan. Fortunately, the onions were cut nice and big, so although the onions meant that the yaki soba looked bigger than it was, at least it wasn't really any tougher to eat. Weaving my way through the vegetables, I found the yaki soba tasted just as it should. The noodles were nice and oily and had that great signature yaki soba taste that's a bit on the salty side and high on the flavor side.
The beef was thinly sliced, and also full of juice and yaki soba flavor. Although I had never eaten yaki soba with beef in it, I now feel like this is the only way to eat it. If I were to make yaki soba myself, this would be how. Well, at least without the cabbage and onions.