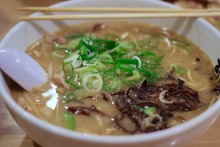 It's pretty well-known that Little Tokyo is now home to some of the best restaurants in LA. One of these is better-known for their spicy ramen challenge perhaps moreso than how good their ramen actually is. This place is Orochon Ramen, which can be found in one of Little Tokyo's mini malls and I set out to try their non-crazy-spicy ramen to see how it held up.
I went with the Miso Ramen, which came with the thicker noodles and got spice level #2. I should note that this is not the special spice level #2, which likely would have killed me from the inside out. I didn't add anything else to the broth and then eagerly anticipated my soup.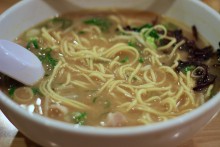 It turned out that I ordered the perfect spice level, which added a slight kick, but served just to enhance the flavor. The broth and noodles were both pretty solid, but weren't overly special. The same went for the pork, which was good melt-in-your-mouth pork, but still nothing above and beyond my expectations.
Nonetheless, compared to the lines at Daikokuya and Shinsengumi in Little Tokyo, Orochon is a really solid alternative that will allow you to move on with your life instead of hanging around waiting for a seat to open up.