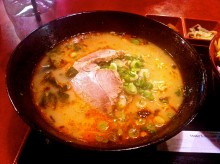 Down in Gardena and Torrance, it's hard to turn a corner without spotting a ramen shop. So when my coworkers and I set out for some Hakata Ramen Shinsengumi and found the line to be too long, it wasn't hard to get our ramen fix elsewhere. That led us to Tampopo in Gardena. Tampopo may have a good amount of ramen on their menu, but they reminded me of an old-fashioned Japanese izakaya moreso than a simple ramen restaurant.
To balance out this mix of izakaya and ramen, I ordered a ramen set that included their Tampopo Ramen and Chicken Katsu Don. I asked for the ramen to be upgraded to spicy, then sat back to see what would come out. It turned out to be a massive set meal. The ramen bowl was huge and although the don was smaller, either probably would have been a good-sized meal on its own.
The ramen was unquestionably spicy and actually quite good in general. It wasn't my favorite ramen, but definitely got the job done. The don was pretty good as well. I should have realized it came with onions, but I was able to pick those away with my handy chopsticks. I was definitely a fan of the way the chicken was flavored and would order it again if I had the chance.
Tampopo may not have blown me away, but I certainly have no complaints. For a reliable variety of real Japanese food, Tampopo is as good of a place as any to head to.