Have you ever looked upon a meal and thought it was just too pretty to eat? It happens to the best of us, and to be perfectly frank, a pretty-looking meal is often disguising a lack of flavor or creativity. So when my buddy and I decided to head to Tsujita LA in West LA for lunch, I was a little concerned that their claim of "Artisan Noodles" would make for a pretty meal, but little else. But when we showed up and found an obscenely long line of people waiting to get a taste of the noodles, I thought again.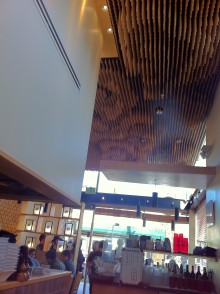 We walked in and got our name on the list, then proceeded to browse the Japanese Outlet store next door and even took a ride to Best Buy. By the time we returned, an hour had elapsed and it was just in time to be seated. The interior of the place had a pretty basic and functional design, with very few tables and a long bar-like row set up that we were seated at. What stood out, though, was the awesome ceiling design, which consisted of uneven wooden dowels that made for a pleasant undulating pattern. It was about as much as they could do to improve the little space, but after a few glances, I was more interested in the food itself.
The lunch menu essentially boiled down to two types of ramen. The first was your traditional tonkotsu ramen, and the other was tsukemen ramen, which differs from the traditional in that the noodles are kept separate from the broth and are dipped in the broth when eaten. It's a cool concept and although good traditional ramen is hard enough to find, tsukemen is even more of a rarity. I went with the rarer of the two, but my buddy got the regular ramen so that we could get a taste of both. I ordered my tsukemen "chaa-shyo" style which meant it came with pork and a seasoned egg.
I didn't take too long to arrive (despite warnings of a longer wait time than the regular ramen), and looked simply beautiful. But after an hour wait, I wasted no time destroying the beauty and began dipping the noodles into the broth. The taste was nothing short of delicious. The broth was way strong, but the noodles tempered it perfectly to combine for a perfectly rich flavor. The noodles themselves were thicker than regular ramen and almost had a yakisoba-esque texture to them. Which is great, because yakisoba is awesome.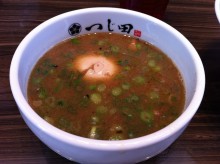 I was happy to find a good amount of pork accompanying my noodles, but found each little slice to be about half-meat, half-fat. I love fat as much as the next guy, but there's a difference between having it blended in with meat and simply chewing fat. Fortunately, the meaty halves tasted amazing in the broth and I left the fatty halves in to add even more flavor to the soup.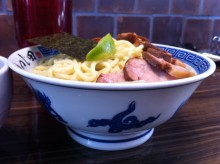 And finally, there was the egg, which was a really nice touch. As it had spent more time in the broth than anything else, it absorbed a nice bit of flavor that just burst in my mouth with every bite. Then, once the noodles had taken out a fair amount of the broth, I had the option to refill the broth bowl with hot water to make it more like a traditional ramen broth. I took them up on that option, but was so full from the noodles that I managed only a few sips of the soup before calling it quits. Yet, the little bit I tried was delicious and certainly worthy of continual consumption if I had the stomach capacity.
Of note, the ramen my buddy got was equally awesome. The noodles were cooked somewhere between medium and hard and the broth had a nice, even balance to it. By the time we both finished, we concluded that the hour wait was well worth it…at least to try the place. I'm not sure that I would wait in that same line again with Ramen Jinya just down the street, but would happily return in better line circumstances. If you don't like the ramen at Tsujita LA, you will likely never find a ramen to suit your fancy. It may be too pretty to eat, but it's too good not to.
It should also be noted that Tsujita LA only serves ramen at lunch, which is likely the reason for the crazy-long wait. So heads up and all that.