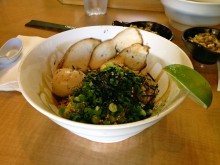 On a drunken evening in Osaka, I vaguely recall punching buttons on an old school lotto-style machine at a ramen restaurant. The result was some of the most delicious drunk food I have ever eaten. Fast forward to 2012 and Tsujita continues its stranglehold on the ramen scene of Little Little Tokyo in West LA. Yet, it is not alone in ramen. Tatsu sits just down the road and has taken that machine concept I encountered in Osaka into modernity.
When you enter, a couple of tablets shine to the right and are used for ordering. Tatsu only offers two types of ramen (dry and brothy), but each is super customizable. My favorite part was selecting "I don't agree with green onion" from the options as I selected regular brothy tonkotsu ramen with the custom options in the picture to the right. Fortunately, the fiancee opted for the dry broth so I could get a taste of both.
We took a seat at the bar and watched as the ramen cooks meticulously prepared each order. This certainly was not fast food.
The result was a whole lot better than I expected. My ramen was filled with skinny noodles that could have been a bit harder, but were still quite good. The sauce had great flavor, but I added some extra garlic for good measure. I mean hey, when is there ever really too much garlic? The chashiu pork tasted like typical chashiu pork, but it wasn't nearly as fatty as some that I've encountered. I call that a win. A nice addition was the soft boiled egg, which had a delicious juicy yolky center.
The dry ramen was also pretty good, and a good option in the summer when a hot bowl of soup doesn't sound too good. The noodles were a bit thicker and I'm pretty sure it could be considered tsukemen ramen, especially because it had a dipping sauce with it.
The end result of the meal was pretty joyful. No, the ramen didn't blow my mind, but it was cooked just right and the modern ordering system not only reminded me of Japan, but also gave me a good amount of enjoyment.