While LA has its fair share of Middle-Eastern restaurants, Kabab Grill in Palms boasts something I haven't seen elsewhere: its own pita oven. Growing up with the Middle-Eastern restaurants of southeastern Michigan, I just kind of assumed every place had their own oven, but in LA I learned this was not the case. Yet, a pita oven alone does not make a place great, so I was eager to see how this Syrian-flavored place would taste and hoped it didn't taste like the blood and tears of civil war (too soon?).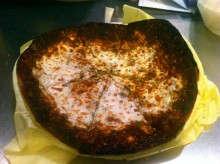 The first thing I tried was their Zaatar Cheese Safeeha. This Syrian specialty was a special baked pita-like bread cooked with thyme, oregano, sesame seeds and olive oil with cheese melted over it. It was definitely a good choice. It came out of the oven kind of crisp and the cheese had a bit of a chewy mozzarella texture to it, but a stronger taste that went well with the other seasonings. It also went well with the hummus, garlic sauce and chili dips that came with the rest of my meal.
And as for that rest of my meal, I ordered the Chicken Shawarma Plate. This came with shaved off chicken from a spool in the back, plus two sides. Like any good unvegan, I chose hummus for both sides. It also came with the aforementioned garlic sauce and one piece of pita. The result was fantastic. The only vegetable to be found was a giant lettuce leaf that I can only assume was place in the styrofoam box to prevent the chicken from melting the styrofoam. The hummus was pretty damn good and the garlic sauce was nearly as good as Zankou's. The chicken was good and tender and really my only complaint about any of the meal was the pita.
No, not like that. The pita itself was delicious, but there just wasn't enough of it. Only one paltry piece for all that chicken and hummus? When I finished the pita, I was left with a lot of loose hummus and chicken that had to be dealt with with a fork.
So, if you go to Kabab Grill and order one of their plates, be sure to ask for extra pita. You'll be glad you did, and you'll also be glad you tried out Kabab Grill. Just don't go if you are in a rush. It has the look and feel of a fast restaurant, but they put a lot of care into preparing everything and that can mean a bit of a wait.