Heading into Noho Royal Garden in North Hollywood, I kind of expected to find myself in a typical Middle-Eastern style restaurant. But no, there were no rugs on the wall, no decorative lamps or beads. Instead, it felt like I had just walked into a Mexican cabana. Part outside, part inside, with umbrellas, trees and stones, this was a perfect place to escape from work…well as long as the food was any good.
Outside the place was a big sign promoting their $7.99 lunch special, so even though they had some tasty-looking shawarma sandwiches, we asked the waitress what their lunch special was. It turned out that this wasn't some sort of special lunch menu, but a single dish that was on special today. It just so happened that on this day, it was their Chicken Shawarma Plate. The plate was regularly priced at $9.99 and came with onions, roast peppers, roast tomatoes, salad and basmati rice. I was enticed despite the fact that it came with multiple vegetables, but ordering it without all those would require me to get more food. I opted for the hummus, which was $4.99, but looked quite good. Then I ordered the lunch special, but without the vegetables.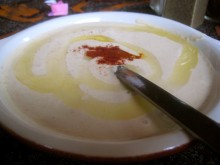 The hummus came out first and looked unlike any hummus I had ever seen before. It was quite white in color and looked really runny. Then I dipped some pita in and found it to be pretty amazing. It was the creamiest hummus I've ever had and still had great flavor. Plus, there was plenty of it.
While eating this delicious hummus, I realized tat in my haste to order my main course with no vegetables, I neglected to order without the salad. No sooner than I remembered, my dish appeared. Although the salad was on the plate with the real food, It was pretty well separated from the rice and chicken. The chicken was unlike any shawarma I had ever seen.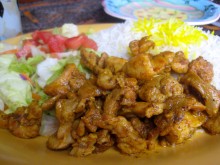 Most shawarma I've had has been shavings off of a spool of meat, but this was more like chunks of chicken that had been marinated and grilled in a pan. Although surprising, I didn't hesitate in eating. I found the chicken to be quite flavorful. How ever it was cooked, the cook had chosen some great spices. I used the meat, pita and leftover hummus to make myself some delicious mini-sandwiches and by the time I exhausted my plate of chicken, I was one stuffed and happy unvegan.
Despite having a lot of vegetable options, Noho Royal Garden cooked up some delicious and unique Middle-Eastern dishes. I figured the Persian and Armenian influences that the menu purports to have were the reason the food was so unique. Aside from the veggies, the only downside was the price. Even though I got the lunch special, I needed to spend another five bucks to make it a whole meal. This isn't a lot of money in general, but for lunch I feel like I can find something a bit cheaper.