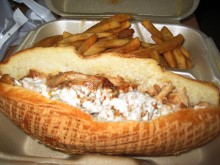 About a year ago, a new Turkish restaurant opened down the street from me in Palms. I was overjoyed at this and especially happy when I saw that they were open late on weekends. Unfortunately, I went pretty soon after they opened and was kind of disappointed with the results. Lucky for them, this was before I started a meat blog, so when I finally got around to paying them another visit recently, it was my first chance to give them an unvegan review. The restaurant is called Sofra Kabab Express and although "express" is typically applied to fast food restaurants in airports, this is nothing like one of those, even encouraging people to hang around and smoke hookah (nargile in Turkish).
They run a great lunch special, which I was able to take advantage of. This was a sandwich, fries and a drink for $6.99. Not too shabby. For the sandwich, I went with the Chicken Doner (Shawarma) Sandwich. I think they threw shawarma in there so they wouldn't scare off people looking for a regular Middle-Eastern meal. I made sure to order it without vegetables, since for some reason, people still seem to think vegetables are a good idea for a sandwich. Anyway, my sandwich was ready pretty expressly and since I'm no hookah smoker, I took it to go.
Just looking at the thing, I could tell they had made great improvements since my initial visit. The chicken was covered in a garlicky sauce and looked pretty juicy as well. Also, it was good to see that the sandwich was pretty stuffed, since there is nothing worse that a sandwich with too much bread, no matter how good the bread may be. I bit in and was quite happy. The chicken was as juicy as it looked and the sauce on it tasted great. In the Middle-Eastern style, I loaded some of my fries into the sandwich, which only enhanced the thing. The fries were nicely seasoned and good on their own as well.
This was a great stop for a reasonably priced lunch. I'm glad I decided to pay them another visit and now I'm looking forward to taking advantage of their late hours.