No, this isn't LA's new mobile petshop, although that is a genius idea that someone should really get on. Instead, it is another one of LA's constantly expanding collection of mobile food trucks. Dogtown Dogs specializes in hot dogs, which isn't entirely creative considering the existence of Let's Be Frank. Despite this, I tracked them down one night after hearing some pretty good things about their dogs. As with most mobile eateries, I ended up finding them parked near the Brig on Abbot Kinney.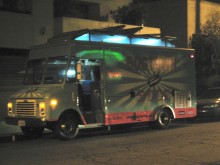 Upon looking at the menu, I instantly knew that this was going to be an improvement upon Let's Be Frank. Each hot dog was all beef, which is always preferable, but two delicious-looking unvegan dogs stood out to me. The first was the Morning Commute, which was wrapped in applewood smoked bacon and topped with a fried egg. The other one was the Trailer Trash, which was topped with chili and Fritos. I briefly toyed with the idea of combining these to make the ultimate death dog, but then my arteries yelled at me. Instead, I just ordered the Morning Commute and decided that if it was good enough, I would return later to test out the Trailer Trash. I handed over six bucks, which was cheaper than the vegetable-laden dogs, but still a bit expensive for my taste. It's hard not to think of hot hot dogs as cheap food when you are used to Costco.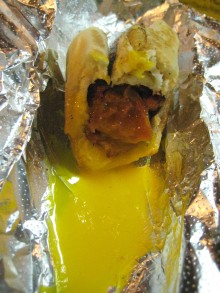 It took a surprisingly long time for the hot dog to be prepared, but I wouldn't want to hurry bacon. Once it was finished, the dog looked pretty nice and happy to not be fighting against vegetables. I bit in and was also pretty happy. The bacon was nice and thick, but still crispy, while the dog had a nice snap to it when you bit in. I guess that's why they are called "snap dogs." The unfortunate part about the hot dog was that the egg wasn't exactly made to fit in the shape of the dog. It was the regular semi-ovular shape of a fried egg, but that meant my first couple bites were egg-free. When I did reach that egg, the hot dog improved greatly. And then once my teeth pierced the yolk and sent the gooey insides running down the dog, I had a new dipping sauce!
Upon finishing my hot dog, I was pretty happy. This new truck didn't do anything amazing or break any new ground, but they figured out how to make a pretty good hot dog, albeit in a somewhat costly way. Now if they could only figure out how to stretch the egg across the entire hot dog, that would be a great new trick for a relatively new dog.