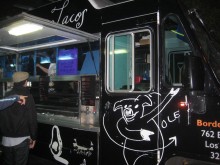 Finally, I feel like I've been to just about all of the food trucks in LA that I have any desire to visit. Yes, I know I haven't been to all of them, but I think I've been to enough to justify paying a visit to the Border Grill Truck, despite the fact that the Border Grill is already a restaurant I have been to. I guess I just wanted to see how an upscale Mexican restaurant could translate into a truck. People seemed to be enjoying their food outside of the truck, so I went to see if I could partake in their enjoyment.
They were actually running a special that looked quite nice to me. It was Chorizo Hash Taquitos with Chipotle Crema. Sounds perfectly unvegan, right? So I ordered two for five bucks. Just to be sure, I asked if the taquitos came with anything else on them, like vegetables, and was told they didn't.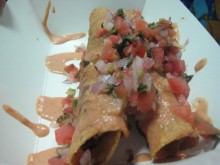 So imagine my surprise as the taquitos were handed to me and covered in dreadful pico de gallo. Obviously I had been lied to and I grabbed a fork from the truck to scrape off this awful concoction of tomato and onion. Unfortunately, this also scraped away the chipotle crema, leaving me very little to actually taste for myself. With these vegetables taken care of, I took a bite of the taquitos and discovered even more objectionable vegetables, peppers! And this wasn't just one bite of anomaly. Interspersed throughout these taquitos were peppers (and not the hot kind, which are tasty) that were nearly impossible to remove because of the closed-off nature of taquitos.
Unfortunately, the edible parts of the taquitos weren't tasty enough to justify such liberal vegetable use. The chorizo was decent, but hard to taste over the peppers. The chipotle crema on top was also decent, but probably would have been better if I could have eaten more of it. If only they had told me my meal was going to be invaded by veggies, I could have not ordered it. Instead, I was misled, which made things even worse. Sorry, Border Grill Truck, but five bucks is a high price to pay for an okay taquito special filled with lies.