On the recommendation of a friend, I ventured out to Tart Restaurant near The Grove on Fairfax to try out their alligator. This friend had never actually had the alligator, so it was a bold suggestion, yet I always thought it would be great to consume gator just as Brandon Graham consumed Tim Tebow in the Senior Bowl on Saturday. Tart isn't just some random restaurant serving gat0r, though. The whole place is a Southern theme, which the gator fits right into, so I went in looking forward to some good Southern eats.
The gator was actually an appetizer, so the four of us at dinner split it. It was described on the menu as "White Meat Alligator Tail marinated in buttermilk and Cajun seasoning…" It came out and looked just like little bits of fried chicken, but we knew there was something more interesting lurking beneath that breaded and fried exterior. I took a bite and could truly say that this didn't taste like chicken. Instead, it tasted a whole lot like calamari, but without the ring shape. I should have guessed it would taste like this since it came with cocktail sauce. To me, it tasted overly fried and a bit too chewy. I'm not sure what a gator connoisseur would think, but I've tasted a lot of strange foods in my day and my gator experience didn't leave me searching for the next place I could try gator.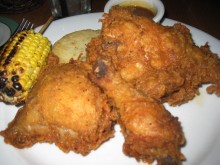 For the main course, I ordered their Southern Fried Chicken. This was a free-range chicken served with a Crispy Grit Cake, Mustard Greens, Corn on the Cob, and Lavender Honey. All of this looked great except for those frightening mustard greens. I substituted these for some Mac & Cheese for a little price increase, but it was a small price to pay to avoid greens. The chicken was massive when it came, and really didn't need those sides since it was already so huge. Nonetheless, it definitely looked good. The batter was light and slightly flaky. I tasted it and the flavor of the batter wasn't terribly strong. This gave the chicken more of a subtle taste that was pretty welcome and went pretty well with the honey.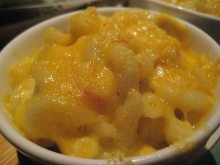 The side dishes were pretty great. I loved the grilled corn, while the grit cake was relatively flavorless, but had a great texture. Finally, the Mac & Cheese was pretty damn good. It came in two little bowls and was really basic in a good way. Sometimes trying too hard with Mac & Cheese can have disastrous results and it was nice that they kept this pretty simple at Tart.
With the gator and all, this was a pretty good meal. It didn't set a new standard, and was a little pricey, but I could definitely embrace this Southern cooking as a tastily fried comfort food.