Somehow it took me nearly a year of working in Pasadena to discover Braise and Crumble just down the street from my office. It's truly shocking because after discovering the place one day, I was back just a couple days later to get in on it again. Because of that, you actually get to see how two meals unfolded at this place.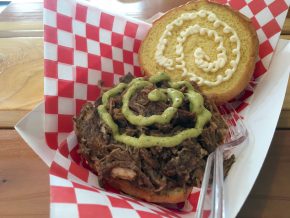 The first time, I went with the Oink and Moo Sandwich. This was named for the sounds that the meats made before they were meat and were living, breathing animals. The pork was pulled and the beef was short rib. It was also topped with jalapeno puree, mayo, tomates and lettuce. I had no need for the latter two ingredients, but the others were just fine. The result was magical, with both meats popping with flavor and the jalapeno puree adding a nice little kick.
Yet, I had to get back to try the fried chicken. Instead of a sandwich, on my second visit I went for the Hunka Hunka Fried Chicken Love. It's essentially a basket of three pieces of boneless fried chicken (dark, white or mixed), a biscuit and a side. I chose the mixed and gorgonzola potato salad for my side. The fried chicken turned out even better than the Oink and Moo. And that goes for both the white and the dark meat. Each piece was juicy, flaky and flavorful. Really, what else could you ask for than that? I suppose you could ask for a biscuit and potato salad, but these really were just sidekicks to the chicken.
After downing three animals in two trips to Braise and Crumble, I was happy to have found a little gem in Pasadena. In fact, it might just be my new go-to lunch spot.