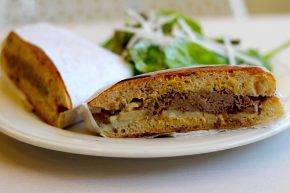 Seed Bakery is one of those spots in northern Pasadena attempting to make the area more desirable. It started out as a farmer's market staple, but has been around for a number of months – and because I live down the street I feel like this review should have come long ago. Regardless, Seed is a breakfast and lunch sort of place serving all kinds of things on breads. Well, at least sandwiches and toasts.
I decided to order the Short Rib Melt because it was the meatiest option around. The short ribs were topped with manchego, gorgonzola and caramelized onions (which I ordered without) according to the menu and served on ciabatta. Little did I know that when my sandwich arrived it would also come with a pile of leafy greens posing as a salad and that the sandwich would be loaded up with a fancy mustard.
While the short ribs, cheese and bread were obviously delicious (I mean, how could they not be?), this mustard was overwhelming. It completely took away from all of the other flavors to the point where I was tempted to eat the salad just to rinse out the mustard taste. Perhaps I overreacted to the mustard because I'm generally not a fan of the stuff. Yet, if done tastefully (according to my taste) it can usually be tolerable. At Seed the tolerance was questionable.
Now, judging a place based on one sandwich is a difficult task. After all, I have heard good things from everyone else who has visited. So it's clear that Seed has the potential to be great, but dousing a sandwich in mustard isn't a great start. Plus, Seed could have done a lot of good by just warning me of the salad and mustard in the first place. Yet, this may just be a seed that has been planted and there are much better things to come.