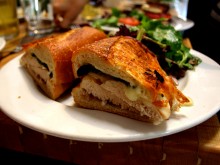 To get pick up some pies for a bit of a celebration, we popped into Thyme Cafe in Santa Monica. The place was more packed than any pie place had any right to be, and we added to their packed-ness by sticking around to grab their sandwiches for lunch. The menu boasted about ten different options and some of them were much more unique than I had expected.
Yet, as often seems to be the case with sandwich shops, many of them were filled with at least one vegetable. It was upsetting, but I got over it as I ordered my Grilled Chicken and Fig sandwich without the red onion. It also came with manchego, brie and basil, all served on a baguette.
The sandwich itself came out just how I wanted it. On the rest of the plate, though, was an unwanted old enemy of mine: salad. Somehow this made it onto the plate without any warning. I ignored the foul leaves and went to town on the sandwich, which was quite awesome. The baguette was nice and crispy, the cheese was melted perfectly and the fig added a sweet balance to it all. The only hard part was keeping it all within the confines of the bread.
Although I didn't eat it until the next night, I can also vouch for their salted caramel pie. It was so good, in fact, that my father the chocoholic liked it more than the chocolate cake we had.
Thyme Cafe is clearly more than just a bakery. Those pastries may bring you in, but the sandwiches are worth sticking around for.