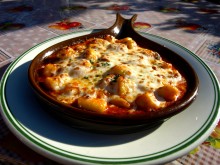 With our original lunch plans spoiled by a champagne brunch, we found ourselves at the Marina Del Rey Fisherman's Village without a plan. Off in the distance, we heard some classic soul music and wandered in that direction to find Sapori, an Italian restaurant. It had a nice view of the marina, with that soul music played by a live band in the courtyard next door and we decided to give it a try.
The menu wasn't terribly big, but as usual my eyes shot to the gnocchi, called Gnocchi alla Sorentina here. As opposed to the other pastas, this had a choice of sauces: tomato basil with melted mozzarella or four cheese. Usually I would go with four cheese, but my sister ordered that and the waiter said I should go for the tomato basil, so I did.
What arrived was a hot pan filled with bubbling cheese and some amazing gnocchi. Seriously, I was not expecting such good gnocchi at a location like this, but Sapori surprised me. It was all at once pillowy and melty while maintaining form until bitten into. The sauce with the cheese was quite good, but I have to say that I tried my sister's gnocchi and liked that sauce even better. Yet, if you're not into such cheesiness, the tomato basil does a swell job.
In all, I was impressed with Sapori. The location was great and the food definitely exceeded expectations. It just goes to show that no matter how much research you put into finding a restaurant, some of the best are just waiting to be stumbled upon.