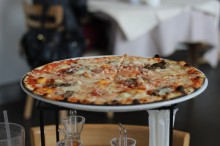 Tucked into a row of warehouses in Gardena there is a big secret. In fact, the secret is so well-hidden, if you weren't looking for it, you could miss it altogether. This secret is Eatalian Cafe, an Italian restaurant that resides in a warehouse itself and serves up some classy cuisine.
Eatalian specializes in pizza moreso than other Italian food, so our group decided we needed to start out with one of those. After little debate, we decided on the Pizman, which came with tomato sauce, mozzarella, speck, porcini and gorgonzola. Porcini, despite sounding like a beautiful cured meat, is actually a mushroom, yet I realized as someone splitting a pizza I would have to pick it off myself.
The pizza took a surprisingly long time to cook, but when it came out, we went right to work on it. The dough was incredibly thin and I was happy to see that the toppings spread all the way to the edge of the pizza, leaving little extra crust. The crust that did remain was perfectly crisp. In all, the pizza truly reminded me of pizza in Italy. Granted, I haven't been there for twelve years, but it sure brought back memories.
I also had myself some gnocchi. That sexy potato pasta is made fresh and came with a choice of sauces. I asked the waitress for help and she failed to narrow things down, so I opted for their meat sauce. As usual, this was a good choice and the gnocchi did not let me down.
It's almost a shame that Eatalian Cafe is hidden away in a row of warehouses in Gardena. It's a restaurant that deserves to be shared with the world, yet its location is part of its charm. Anyone willing to seek it out will be rewarded with a tasty treat.