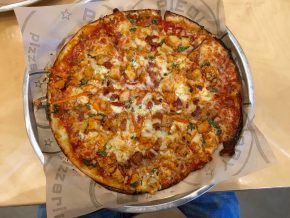 Ever since 800 Degrees hit the scene, it seems like quickie custom pizza shops have shown up everywhere. Pieology is one of these places and it follows in the same assembly line style of others before it. The ingredients are essentially the same as Blaze Pizza, but with a few tweaks here and there in the sauce department.
Thus, I went with a twist on the buffalo chicken pizza (taking advantage of their buffalo sauce), topping mine with spicy chicken, basil, mozzarella and gorgozola cheese, bacon, and sausage because obviously chicken isn't enough meat.
After a quick blazing in the oven, my pizza was ready for chowing. Like Blaze Pizza, Pieology's pizza felt more commercialized in the sense that the crust was pretty perfect rounded (despite a weird deformity in the bottom right of the picture) and the toppings were evenly distributed. Unlike Blaze Pizza and 800 Degrees, this pizza was super crispy. I didn't ask for it to be cooked well-done, but it sure seemed like it was. I couldn't complain about it, but it was definitely a noticeable difference.
As for the toppings, they were really great. The spicy chicken was really truly spicy and the rest of the toppings (aside from the buffalo sauce) did their best to buffer against the heat. They failed, but tasted good in the process. Other than the spiciness and crust, I could find little to distinguish Pieology from its brethren.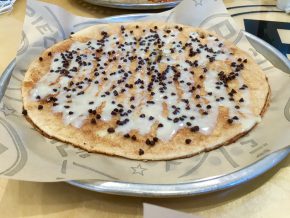 But wait, there was a dessert pizza option. We ordered it to split as a group, but I found what seemed to be just bits of chocolate to be incredibly potent and overwhelming. Just know if you get the dessert pizza it's for those with a strong sweet tooth as opposed to those who was just a little something sweet to close out a meal.
If Pieology is nearby and you're craving custom pizza, you can't go wrong. It's really hard to make bad pizza and Pieology is a long way off from that. Nonetheless, it's not exactly a spot I would seek out instead of another custom pizza spot.