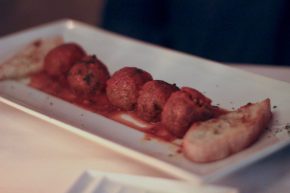 It's not often that a fancy restaurant like Via Veneto invites you to check them out as a blogger. But alas, I found myself a few tables away from Zach Galifianakis ready to take down some of the fanciest Italian food in Santa Monica. It began with a couple of glasses of champagne from the Champagne Oddbins online range and then we moved on to the real deal.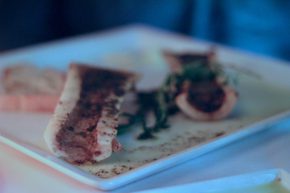 Thus we ordered as any good unvegan should, with Meatballs and Bone Marrow. Obviously it's not enough just to eat the meat of the animal, you have to crack open them bones and eat the innards. But back to the meatballs, these were a combination of beef and pork and were easily the most tender meatballs I had ever eaten. The marrow was also damn, good, as marrow goes. Of course, I have reached the point where most marrow tastes the same, but scraped across some of Via Veneto's crispy toast without any flavor distractions it was great.
For my main course I ordered the Gnocchi, because while it is not a meaty option I just can't turn down a chance for some good gnocchi. This gnocchi was pretty special, being composed of purple potatoes as opposed to boring normal potatoes. But aside from their color, these little potato dumplings blew me away with their flavor and texture. Threatening even The Bottle Inn for pillowy goodness. They were served in a creamy sauce that matched the flavor perfectly.
The wife ordered the Langoustines which, for those of you who may not know, are either like giant shrimp or mini lobsters (depending on if you are glass half full or half empty type of person). I snagged a bite of hers and was happy to discover that it tasted more like lobster than shrimp, except because they were so small the claws were meatless.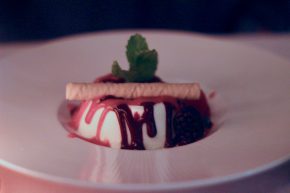 Finally, I finished the meal off with the Panna Cotta. I must admit, I am a sucker for custardy desserts and the Italians do some of the best. This panna cotta was topped with some berries and berry sauce, but that doesn't tell the whole story. The whole story is that the berries added a perfect tartness to counter the sweetness of the silky custard. Combined, they made for a near-perfect finish to a delicious meal.
I typically do not favor fancy Italian food because the cheap stuff still satisfies, but Via Veneto is a whole different level. I will dream of that gnocchi for a long, long time after it has passed on to the other side. Free dinner never tasted so sweet. And tender.