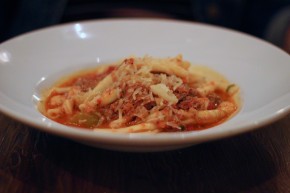 The Palm Springs area isn't exactly known for its culinary prowess. You see, septuagenarians don't really care how their food tastes as long as they can be done with dinner by 6:00. Nonetheless, there are a few places willing to take some risks and offer unique eats (even if they do sport an early bird special to boot). One of these is Catalan in Rancho Mirage, a Mediterranean restaurant in the sense of the European parts of the Mediterranean at least.
We began the meal with an order of their Bone Marrow. Having become spoiled by the prices of such marrow in Pittsburgh, I found this to be a little pricey…at least until it was served. That's because we were treated to three full (half) bones filled with the gelatinous stuff. Had their been twice as many of use (alas we were only two in number), there still would have been plenty of marrow to go around. It was also served with chicken liver mousse, orange marmalade and, in a nod to other regions of the Mediterranean, some nice grilled pita.
We opted to split two dishes as our main course. The first was a Lamb Osso Buco, which I believe can be loosely translated into lamb on the bone in parts of Italy. It should not be confused with lamb chops, which also have bones, but of a different variety. Alas, this lamb was deliciously tender and flush was an oniony and tomatoey flavor. It was also served on a bed of something polenta-esque, which played a nice role in the dish.
The second dish was Strozzapreti & Hudson Valley Duck Ragu, as the sight of several mallard ducks at the hotel earlier in the day had really put me in the mood for that fowl. This dish was also a winner, bolstered by the delicious shredded bits of duck, well-prepared pasta and a touch of truffle oil.
While I know Rancho Mirage isn't a food mecca, it doesn't mean good places aren't to be found. As someone whose previous dining out experiences in the area were with my grandparents, I was glad for the opportunity to branch out into something at a different level.