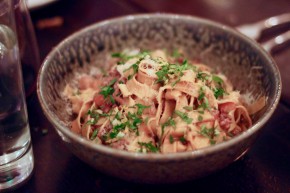 I've said it before and I'll say it again: when it comes to Italian food (namely pasta), you've gotta be pretty damn special to convince me I can't do better on my own at home with the dry stuff and some Classico sauce. Union Restaurant in Old Town Pasadena is the latest attempt to convince me to leave home for Italian food.
While we ordered a number of dishes for the table, there were a select few that I opted into due to their unvegan qualities. It began with Tagliatelle, which was prepared with a pork ragu, parmigiano-reggiano and gremolata. Simple, right? Well, with the homemade noodles this dish was anything but simple. It would be best to describe it as "just right."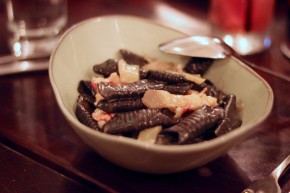 One dish that was anything but simple was the Squid Ink Garganelli. As you could probably guess, some of the pasta in this was black, but as with squid ink in general, only the color and not the flavor of squid came through. This dish was prepared with Maine lobster, fennel, meyer lemon and truffle butter and each flavor stood out on its own without overpowering the others. Plus, the garganelli pasta was nothing if not beautiful in looks and taste.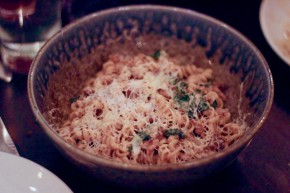 The third pasta dish I got in on was the Fusilli, which has pork fennel sausage, pecorino-romano and spigarello (a green that was only in there for the good of the table). Once again, this was delicious. And while the pasta itself didn't hold a candle to the tagliatelle, the sauce and sausage did their best to make up for it with flavor.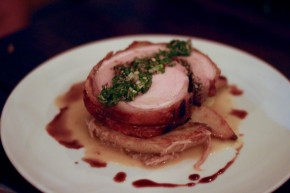 Yet, none of it really compares to the king of the meal, the Porchetta. This coiled up pork roast has only limited availability every night at Union and we managed to get the last one available. It was served with some potatoes and salsa verde, but they played a distant second fiddle to this pork. It was packed with herbs, moist as pork could possibly be and amazingly not overly fatty. The skin was a thick, hard crust that may or may not have pulled out one of my fillings (just kidding, it wasn't like that), but was so good I kept going back for more.
And in the end, that's kind of how I felt about Union. Despite taking down the good part of a number of dishes, there was no doubt in my mind as I left that I would be happy to go back for more.