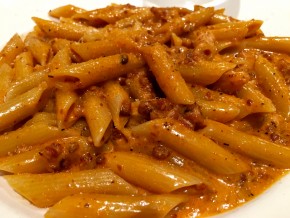 Pork and booze are easily two of the greatest things that can be consumed on the planet, if not just two of the greatest things in general. Celestino in Pasadena is fully aware of this and has combined them in a pasta dish worth writing about. It is called the Pennette Con Prosciutto e Vodka, but it may as well be called Paradiso.
I truly have no idea how Vodka, a drink from Eastern Europe, made its way into classic Italian cuisine, but then again pasta came from China and the tomatoes came from the New World, so I suppose very little of Italian food originated in Italy. Nonetheless, there is no doubt that prosciutto is a real Italian cured meat and it goes well with everything. In this pasta dish, it is crumbled into bits and dispersed throughout, giving each bite a pop of yum.
The penne itself may not be special and most likely starts out dry, but it works well as a base for the light sauce and powerful prosciutto. It's the kind of meal that may put you in a food coma (especially after a few rounds of bread), but it's a coma well worth dropping into.