South Pasadena is a unique place. As a wholly independent city, it's often thought of as a more hoity toity part of the area. Yet, it retains a charm that is distinctly "main street." The part of Fair Oaks that runs through town features a pharmacy straight out of a Norman Rockwell painting, but more importantly it has Gus's Bar-B-Q, which has been around since 1946.
The style of the place is like an old diner, but the smell says it is definitely a BBQ joint. The staff was incredibly friendly and helpful, pointing me away from the brisket (which was apparently not great) and toward the Ribs & Chicken Combo. This came with a choice of smoked or fried chicken and baby back or spare ribs. It also came with two sides. I opted for the fried chicken and spare ribs, then mac and cheese and jalapeno cheddar grits and could hardly wait.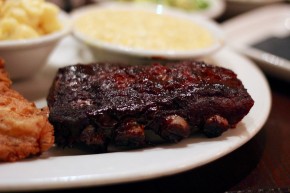 The result was a beauty. Although I had been warned, the fried chicken was boneless, which was new and different and made it twice the size of the ribs. The ribs were slathered in a bit of the BBQ sauce, but I added some more of the three flavors (normal, spicy and vinegary) offered at the table and they were all good. The ribs came right off the bone and while they weren't too big, they were packed with perfect smokey flavor.
The breading on the fried chicken was tasty, but wasn't as spiced as some can get. Considering this was a BBQ place it wasn't a problem, as I was able to dip the chicken in various BBQ sauces. Due to the lack of bones, there were a few strange bites of cartilage, but overall I could not complain.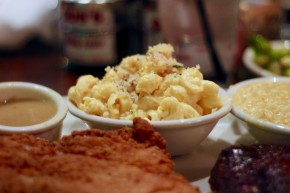 As for the sides, one can obviously never get enough cheese and this held true at Gus's. The mac and cheese was very solid and much more cheesy than creamy. The jalapeno cheddar grits, though, shined above the mac just due to a perfect blend of flavor and texture. This is not to say the mac and cheese was bad, it's just that it wasn't special like the grits were.
Overall, though, Gus's did not let me down. There's a reason it has been around for 70 years and it's not because it serves bad food. It may be lacking some of the charm that you typically find at BBQ spots off the beaten path, but it more than makes up for that with its great service and food.