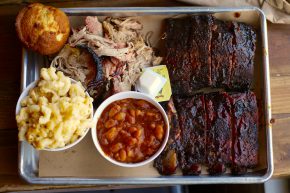 BBQ. Those who don't love it don't love life. But you know where people love life? Eagle Rock. That's where you'll find Max City BBQ dishing out the goods. And this isn't some Santa Maria-style BBQ that's basically grilling, this is slow-smoked action. The only trouble is that the food comes in a limited quantity and if you show up too late the goods might be gone.
Such was the case when we arrived, as they were out of brisket. Worse things have happened, as I just moved on to Spence's Platter of Pork, which is essentially all of a pig and features Baby Back Ribs, St. Louis Ribs, Pulled Pork, a corn muffin and choice of two sides. Thus, I went with Mac and Cheese and Baked Beans. I figured it would be downright stupid not to go all out.
The plate arrived and looked to be a thing of beauty. There was not a stray vegetable to be found and I set to work on the food. I tasted both the regular and spicy BBQ sauce, then opted to use the spicy when necessary. Slowly, but surely, the verdict rolled in across my taste buds.
The Baby Back Ribs undoubtedly took home gold if this was the Olympics. They were juicy, fell off the bone and oh so flavorful. By contrast, the St. Louis Ribs, just didn't pack the flavor and juiciness of the baby backs. This surprised me because I usually prefer St. Louis, but such is life.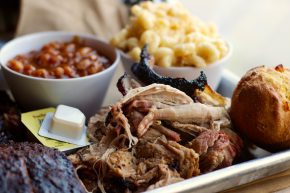 Then came the Pulled Pork, which actually disappointed me. It was plenty juicy and there was plenty of it, but it weirdly was lacking in flavor overall. It was almost like the pork had been swapped with chicken, but that would never happen on Spence's Platter of Pork. I doused the pork with BBQ sauce, but soon moved on to bigger and better things as I contemplated feeding the stuff to my little son.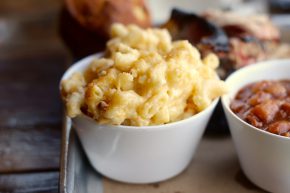 The sides definitely came through where the pulled pork failed. I was a huge fan of the Mac and Cheese, which was a nice mix of creamy and juicy and actually used elbow noodles (such a rarity these days). The baked beans were stellar too, with chunks of meat hanging out in there.
If I went back, I'd shoot for brisket or a rack of ribs. Nonetheless, Spence's Platter of Pork was a great introduction to Mac City BBQ and spotlighted some more great BBQ that LA has to offer. If I could just recommend one thing, it would be to avoid the pulled pork.