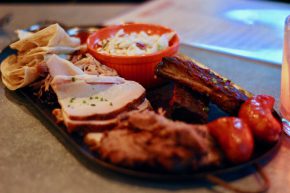 It's hard to make BBQ trendy. It is inherently something that people have very specific expectations for, and anything "new" and good is almost always a minor tweak that makes a real difference. So where can innovation come from? Booze. At least that's what Bootleggers BBQ in Phoenix was thinking, offering a pretty snazzy modern divey bar that also serves up BBQ. It's like a gastropub meets a BBQ spot and I was eager to see how the meat would hold up.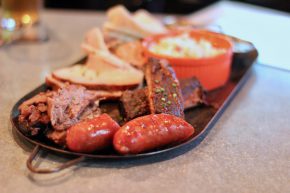 So, after a couple of beers, we went with the BBQ Sampler for Two. This came with pulled pork, brisket, a hot link, turkey and two St. Louis Ribs. There were also tortillas for some reason and some cole slaw. When it arrived, it looked mighty pretty. I dug right in and was happy with the results. By far my favorite was the brisket, which was juicy, smokey and super tender. In fact, there wasn't really anything to complain about for any of the meats. Even the hot link, which can often be hit or miss, was solid if not exciting. They used an amazing small wood stove to cook efficiently.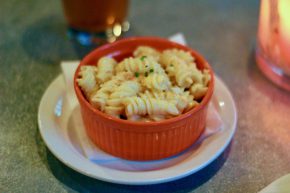 Truthfully, I would have been happy with pretty much any of these meats as my full meal (except maybe the turkey, but that's more personal preference than anything else). And yet, after I downed half the platter I wanted some mac and cheese. So I ordered it and have to say it didn't impress me. Just ho hum flavor and simply not cheesy enough for me. Perhaps that is why the sampler didn't come with a side, but I still would take the good main course over the side on almost any day.
Bootleggers was an impressive, if not overly exciting meal. But having that bar was a great touch, because I got to drink Bell's Two Hearted Ale and it's hard to go wrong with that. I'd definitely be willing to make Bootleggers BBQ a regular BBQ stop.