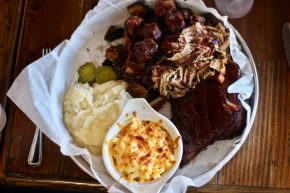 Some BBQ places have a reputation that precedes them. Others, you just kind of drive by a bunch and decide it's time to pay a visit. Porkopolis in Scottsdale is the latter, and I finally decided to pay that visit. I was greeted by possibly the friendliest waiter a BBQ restaurant has ever seen and the scent of smoke and meat juices.
After enlisting the assistance of the waiter, I ended up ordering the 3 Meat Platter with the baby back ribs, pulled pork and burnt ends (which is an option even though the menu doesn't say so!) It was tough deciding between the burnt ends and the brisket, but I felt confident in my decision. I also opted for mac and cheese and mashed potatoes for my sides.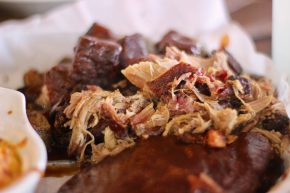 The platter was nothing short of massive, and the ingredients in the platter were also huge. And yet, somehow a couple of pickles managed to squeeze onto the plate and taint the mashed potatoes. I pushed them away, but was unquestionably disappointed to find there was one or two lurking beneath the potatoes. I tried to move on to the rest of the food and the mac and cheese really helped me through that tough time. It was cheesy, stretchy and had just the right amount of char on top.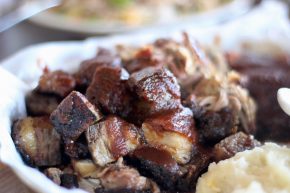 Of the meats, the pulled pork was the best. This was weird to me because usually I simply don't love pulled pork. However, it was juicy, smokey and flavorful. I was expecting the burnt ends to be the best, and they were quite good, but just not as delicious as they could have been. The baby back ribs were of the fall off the bone variety and I don't care what some people say, I love that. The mashed potatoes were…mashed potatoes. No complaints, but nothing special.
I would definitely make my way back to Porkopolis for that pulled pork. I mean, it's in the name and it makes sense. I'd switch a couple of other things around as well, but would expect that nothing would be less than "pretty good." Porkopolis may not be a real city, but it still has all of the amenities I need.