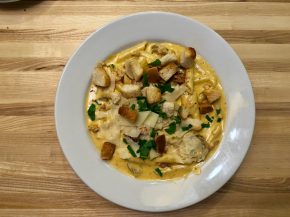 You probably wouldn't expect Phoenix to be the most Italian of cities. After all, there is not Little Italy and the Mafia is more of an East Coast thing. Yet, Phoenix definitely has some homegrown Italian favorites and Babbo is one of these. Babbo invited me out to its Scottsdale location for a hosted dinner and I took them up on the chance to check it out.
It began with the house bread, which was served with a plate of balsamic vinegar and kalamata olive oil a popular option recently.
Despite the roasted onions atop the bread, this made a strong first impression as I probably ate a whole meal's worth of that bread. But this was just the start and I made sure to massage my stomach to make way for an appetizer of my choosing.
We chose the Firecracker Rolls, which are essentially Babbo's take on egg rolls. However, instead of being filled with whatever egg rolls are filled with these days, they came with three filling options. The first was steak, jalapenos, onions, provolone and mozzarella. The second was Italian meats, provolone and mozzarella. And the third was buffalo chicken, mozzarella and gorgonzola. We tried all three with a marinara dipping sauce. I was partial to the buffalo chicken option, but that's because there will always be a special place in my heart for buffalo flavored things in the summer. The steak packed a nice punch that was even spicier than the buffalo and the Italian meats is really something that should please anyone.
For my main course, I went with the Three Cheese Mac and Cheese. It's described as "This ain't no kids meal!" and that ain't no joke. I had never seen anything like this called "mac and cheese" before because it could probably better be described as penne pasta in a spicy cream sauce, but that should in no way distract from the tastiness of this dish. In reality, it used a smokey chipotle cream sauce mixed with cheddar, mozzarella and gorgonzola, plus bacon, sausage and croutons with penne in there.
Its probably not even proper to call it a grown up mac and cheese, but moreso it is a conduit to eat all of the things you normally want to eat, but look somewhat classy as you do. I loved the kick of the chipotle, the bacon was delicious and that sausage just added another great element. The only thing I might consider questioning is the croutons. I can only try to guess that they were tossed in there to seem like a grown up version of breadcrumbs and to give some crunch. Yet, sometimes you just don't want to mess with a good thing like breadcrumbs because breadcrumbs are already plenty grown up.
We finished off our meal (honestly I don't know where the stomach space came from) with Stuffed Churros. These were those same egg rolls, but stuffed with a ricotta cream cheese (basically cheesecake filling) and topped with nutella and strawberry sauce. These were delicious, but I know you're here for the savory stuff so I will try my best to just stick with that.
Babbo did some unique things and deserves a lot of credit for that. I mean, stuffing buffalo chicken in an egg roll can't even be remotely described as Italian and yet Babbo figured out a way to get away with it. They upped the stakes for mac and cheese and really eased themselves into a dessert that also can't remotely be considered Italian and yet it, too, worked like a charm. If you stick to the straight Italian food, you'll probably leave thinking "Hey, that was like Olive Garden, but much better and I don't hate myself after eating the food." If you give some of the more unique options a chance, though, you'll not only leave Olive Garden in the rearview mirror, but actually look forward to a return visit.