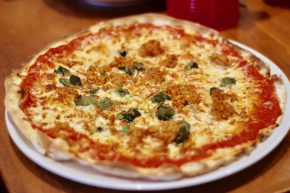 Sauce has been a staple in the Phoenix area for a good amount of years now. And it's a good thing that it's established itself, as other fast casual pizza spots have been sweeping the nation. And while Sauce is about more than just pizza (they have pasta and salads too), it's the pizza that drew me, and presumably almost everyone else in.
I ended up ordering the Spicy Chicken Sausage Pizza. This was topped with, surprisingly, spicy chicken sausage. But it also had poblano peppers, which I am strangely okay with in certain circumstances, and used smoked mozzarella instead of the boring normal kind.
The pizza was prepped pretty quickly, but not quite as quick as the fancy new places. This was fine, though, because speed does not always = good. I was definitely impressed by the amount of kick in the pizza, but somewhat disappointed by its not having enough sausage. Regardless, the sauce was pretty solid and the thin crust was pretty tasty as well.
Overall, though, the pizza just wasn't too special to me. It wasn't bad, it wasn't disappointing, it was just satisfactory. And that's fine for the most part, but when the world (or at least Phoenix) gives you so many options for pizza, you can do a lot better than satisfactory.