Everybody just looooves the Fox Restaurant Group in Phoenix. But can there ever be too many Fox restaurants? I headed to The Greene House in Scottsdale's Kierland Commons in my continuing quest to find out. The Greene House is a modern American restaurant showcasing things like salads, sandwiches, fish and chicken. As in most similar situations, my eyes went right for the burger.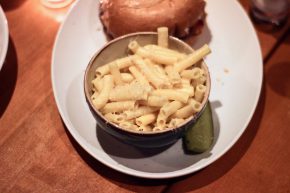 This wasn't just any burger, but a Kobe Burger topped with aged cheddar, bacon, butter (fancy) lettuce, tomato (of the vine-ripened variety) and thousand island dressing. I continue to assert that Kobe Beef in a burger is waste of Kobe Beef, but since it was the only beef option I managed. I ordered without the lettuce and tomato, then went with medium rare. I also chose the mac and cheese as my side, and must say I was glad to have mac and cheese as a regular side option instead of just fries or a salad.
Yet, despite my joy about mac and and cheese, the results were…fine. I mean, i don't know if any of the Fox restaurants know how to make bad food, but there was nothing special about either the burger or the mac and cheese. There was no lack of execution or anything, but just felt like a lack of inspiration. If I'm being fully honest, my stomach was asking me why I walked by Shake Shack on the way to The Greene House without just getting my burger there.