Creating Jewish deli meat is like a perfect combination of art and science. Some delis have found the ideal balance, while others are more content to satisfy the science part of it all and move on from there. I paid a visit to Chompie's in Scottsdale to see how it would measure up against my admittedly high standards for Kosher-style delis.
For starters, the menu was exactly what I would want from a deli – massive and full of what seemed like massive sandwiches. While I could have gone for a simple Reuben or Hot Pastrami, I instead opted for the Triple Decker called Mitch's Brooklyner. It was stuffed with pastrami, corned beef and brisket with three slices of double baked Jewish rye (as though there is some other sort of rye out there). There was literally nothing else in the sandwich. No cheese. No dressing. Nothing. But there was a side and I chose fries.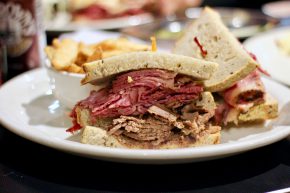 My triple decker sandwich arrived locked and loaded, ready for the taking. It looked like a daunting task to eat, but actually not too crazy because Chompie's clearly adhered more to the science-y side of Jewish deli meats. Each was sliced to the exact same super thin-ness that really hid a lot of the texture that good corned beef, pastrami and brisket should have. Plus, while it was almost inevitable that one meat would get the shaft, why did it have to be pastrami? This was definitely the most flavorful of the trio, if not especially special. The rye was definitely solid and held up well against the onslaught of meats.
So while Chompie's was not at all the kind of deli you tell everyone to go running to, it was definitely the kind of deli that you enjoy having in your neighborhood when you just need the comforts of the old country. There might not be much excitement or art to it, but when you stack up three meats it'll do just fine.