All-too-often restaurants claim to have "the best" blah blah blah in the world, but sometimes there is a restaurant that makes no claim to have the best of anything and lets the customers tell the good news. Langer's Deli is one of the latter. Located in the not-so-posh neighborhood of MacArthur Park, Langer's has become known for their pastrami. Many who have tried it have claimed it is the best ever, so to do the unvegan world a favor, I had to try it out myself.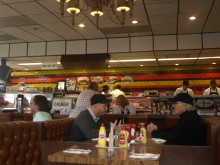 Since they are only open Mon-Sat and only until 4 PM, I went for some lunch on a Saturday. The outside of the place says they serve Hot Pastrami Sandwiches, but makes no claim to have the best. Inside looks like the average diner or deli, nothing pretty, but definitely comfortable. I didn't really need to look at the menu, other than to ensure I ordered the correct pastrami sandwich. Lucky for me, their best was sitting nicely at the top of the menu, simply called Hot Pastrami. The menu described this sandwich as, "…a Select Cut of Beef, Sugar-Cured and Seasoned as Corned Beef, Then Slowly Smoked for Tenderness and Tantalizing Taste and Flavor, Then Covered with Choice and Costly Spices." How could any of this be bad? Well aside from pointing out that the spices are costly, which I felt was a sort of strange thing to do, considering the sandwich was a modest $11.95.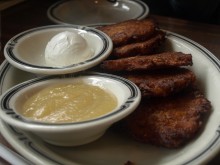 So I ordered may pastrami, with an appetizer of latkes (potato pancakes) for the table to share, then waited. About five minutes after ordering, I shot up from the table and chased down my waiter. I had forgotten to order without a pickle and wouldn't allow that fluorescent vegetable to ruin my sandwich. Thankfully I found him and made my request. The latkes came and were nice and thick. Not quite like my momma used to make, but definitely the type I expect from a Jewish deli. These went great with apple sauce and weren't nearly as oily as they could have been.
Then the sandwiches came.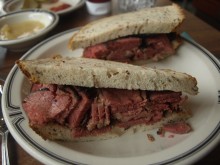 Mine was beautiful. It was stacked with thick-cut pastrami like I had never seen before. And not a pickle in sight! Amazingly, it looked a whole lot like the pictures on the walls, which meant that either the sandwich always looks awesome or that they didn't try to make the pictures unrealistic. The sandwich was thick, but not so thick that I couldn't get my mouth around it. I was afraid to ruin this work of meaty art, but I took my first bite and fell in love. The pastrami was perfectly seasoned and at just the right level of warmth. It needed nothing else on it and although my friends had ordered things like Russian dressing, cheese and cole slaw with their sandwiches, mine was perfect just as it was. Even the bread knew its role in the sandwich was simply to help get the meat to my mouth without altering too much of the taste.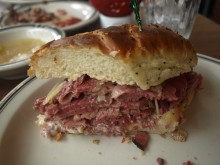 I also had the opportunity to try out the corned beef, which was like the pastrami except without the spices. I was expecting it to be a big downer after that pastrami, but this was also some of the best corned beef I've had. The difference was that with the corned beef, it was good to have Russian dressing and cheese to add some flavor to the sandwich.
Wow, Langer's was awesome. I had some pretty high expectations and this deli more than met them. Langer's Deli is now the barometer by which I shall judge all Jewish-style pastrami sandwiches.