As a child with an appetite pickier than a vegan, I remember going to The Moose Preserve in Bloomfield Hills, Michigan and being amazed by the selection of interesting foods on their menu. I always went with a burger because I wasn't adventurous yet, but as I grew up, I tried some more things. The Moose Preserve was the first place I ever tried a buffalo burger, and I loved it. In fact, at the time I tried it, I had never seen buffalo on a menu anywhere else. Despite trying buffalo, there was one thing on the menu I was always in fear of. This was the Road Kill Grill. Although not actually composed of road kill, this meal had enough strange (to me) animals on it to keep me away. On my last visit to Michigan, though, I decided it was time to take on the road kill.
My Dad and I arrived for lunch, and the place was mostly ours. We took a seat and I was surprised to find that this game-inspired restaurant was playing music like Fanfarlo rather than Ted Nugent. Nonetheless, the menu was just as I remembered it. For a few moments I toyed with ordering something like the Buffaloaf (Buffalo Meat Loaf), but I knew the Road Kill Grill was the ultimate unvegan choice. The menu describes it as,
A selection of roast venison, semi-boneless broiled quail and wild boar sausage with Michigan game gravy. Served with buttered corn, Minnesota wild rice casserole and an "I Eat My Road Kill" bumper sticker.
Although semi-boneless quail is not at all boneless in my mind, I was excited at the entire prospect of this feast. I was ready for it and ordered with a big carnivorous grin on my face.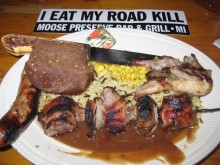 My beautiful meal arrived as a pile of meat and grains. I decided to start out with the food that would be the most similar to food I'm used to, the quail. By looks, quail was a miniature version of a chicken, and the bones were especially small and brittle, breaking with the slightest bend. I decided to eat it like I would a chicken, but cutting the breast up, but leaving the drumsticks to my fingers. I took a bite and found it was like a combination of duck and chicken. It was oily like a duck, but tender like chicken. I offered some of it to my Dad, the ultimate picky eater, and he surprised me by accepting. In fact, after tasting, he didn't make his usual comment of, "It doesn't do anything for me," like he has every other time I've seen him taste something strange. I think this spoke well for the quail.
Next, I tried out the venison. I was pretty disappointed to find that it had been grilled on skewers along with mushrooms. I had no room for fungus on my platter of road kill, so I de-skewered it and set it aside for some poor bacteria to eat. Then I got down to the venison. This was surprisingly similar to beef, and although it wasn't as tender, I felt that if it went through some sort of tenderization process like beef does, it would have been hard to tell the difference. It also had a bit sharper flavor.
Finally, I had the wild boar sausage, which ended up being the least interesting part of the grill. It tasted very similar to a regular pork sausage, although there was definitely something to it that told you that you weren't eating something normal. All of these combined with the rice, gravy and corn made for an awesome meal that is definitely worth trying for any adventurous eater.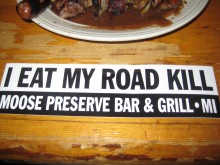 By now you've also probably noticed that I didn't describe any of my food as gamey. This is because I disagree with the very notion of "gamey." Yes, some food is actually hunted as game, but the quail, venison and boar that I ate were probably raised in a farm. If they weren't, they probably don't taste any different than if they were farmed. No one would ever describe a tough cut of regular beef as gamey, but if they eat some tough venison, it is automatically described as gamey, which somehow is supposed to mean something more than just tough. Therefore, none of my food was gamey.
That tangent aside, the Road Kill Grill was awesome, just like everything else I've ever had at The Moose Preserve. To remember it, I have my own bumper sticker, which is actually more of a badge of honor than anything else. With it, I will always carry the all-important message that "I eat my road kill."