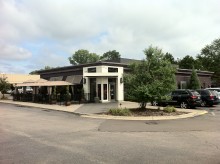 Once upon a time, Paul Revere rode through the streets of Boston, warning all patriots by shouting, "The redcoats are coming!" These redcoats, of course, were the British soldiers and the Americans knew that danger was coming. But when Redcoat Tavern came to West Bloomfield, Michigan, the people did not sense danger. No, they embraced it. That's because the original Redcoat Tavern in Royal Oak had been serving up some of the most delicious food in metro Detroit for years. Yet, while I embraced the branching out of Redcoat Tavern, like the Founding Fathers, I also prepared to do battle against its famous burger.
I truly did not need to give the menu a long look, because my burger buddy Rev told me Redcoat was his favorite burger in the state of Michigan and I needed to see if he was worth listening to.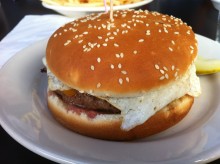 Although the menu failed to describe what this burger consisted of, aside from awesomeness, my awesome waiter was happy to let me know it came with tomatoes, lettuce and some special sauce that he described as pretty much mayo. Wow, none of this sounded good on my burger, so I took the base of patty and bun, then unveganized it by adding a fried egg and cheddar cheese from their long list of topping options. And for those of you who are wondering, no, I did not get the "zip" sauce. In fact, I didn't do my research and did not know such a sauce existed until I talked to my buddy later that day. Alright, back to what I did order. I asked for the burger to be cooked medium rare, then ordered a side of onion rings, which my step-dad had said were delicious. And he knows delicious.
After a short wait, my grand meal arrived. "Get out of here, you stupid pickle," I yelled in my head, then quickly removed the terrible pickle spear from my plate and sent it in the direction of my mother before taking a look at my creation. In a stark contrast to the gourmet burgers of the West Coast, my burger ingredients were encapsulated not by some fancy brioche bun, but by a fancy sesame seed bun instead. The toothpicks holding the burger together also screamed, "You're not in California anymore," because burgers in California are typically half-wrapped in wax paper to keep from falling apart. Without such frivolous wrapping, I could see the burger juices beginning to swell up the bun and took my first bite.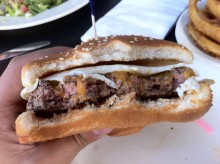 It was like burger bliss.
The meat had a medium grind to it and was packed together nicely. The juices produced by the meat made sauce unnecessary (although I'm still sure zip sauce would have been a welcome addition), and once I reached the yolk of the egg, the perfectly cooked, runny insides exploded and made the burger even juicier. I've said it before and I'll say it again: fried egg just might be the greatest burger topping. The cheddar cheese did a great job of doing what cheese does, which is make everything taste better. And the bun, well was pretty much how you expect a sesame seed bun to be, yet it felt like a welcome breath of fresh air. Don't get me wrong, I like brioche plenty, but combining gourmet ingredients with the patriotic (ironic) sesame seed bun was a concept that made itself at home on my taste buds.
Now the onion rings were a bit disappointing. I wouldn't call them bad, because they didn't have bad flavor. Instead, they were just pretty flavorless. Perhaps it was a bad batter day or my step-dad was just way off with his taste. But, he also felt they weren't very good and declared them bland. To make matters worse, there was also no sort of sauce to dip them in except for ketchup or the egg-splosion on my plate.
Yet, fortunately these rings of onions were not the cornerstone of my meal – the burger was and it was a success. It was a great way to start out my day, which would end even better in Ann Arbor as I watched Michigan beat Notre Dame for the third year in a row. Every day like that should start with a burger like Redcoat's.