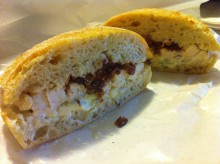 Despite the insane amount of times I have eaten in downtown Culver City, a few restaurants have still managed to elude me. And I do mean a few. Choppe Choppe is one of these restaurants. Now I can proudly say that I have, in fact, eaten their food, but I can still say that the restaurant has eluded me. Oh, the twists and turns of life when your girlfriend picks up food for you. Now, I may not know the full extent of the menu, so I can't comment on options, but she sure does know me and picked me out something to fit perfectly into my unvegan diet.
The meal was creatively called Market Chicken, and although I got the sandwich, the unique part of Choppe Choppe is that they have designed a number of menu items that work in a salad, sandwich or wrap. Salad is for the weak veggie-eaters, but the sandwich that she ordered me was beautiful, and I know she ensured that it had no veggies on it before delivering it unto her unvegan. The sandwich was filled with chunks of chicken, bacon, slices of green apple and ranch. Served on ciabatta bread, it wasn't huge, but it packed a heavy punch.
Now that I've had apples on multiple burgers and sandwiches, I am still wondering what their ultimate use is. Apples aren't exactly the sweetest fruit, so they are typically overwhelmed by strong savory taste. They offer crunch, but not as much as bacon. And they are a kind of neutral flavor, but then so is bread. So after all these tries, I have reached a conclusion: I love apples, but I'd rather see them on the side than in my sandwich. Game over. Will I turn down apples as a topping? No. But I also know that I really don't need to seek it out.
But I digress, back to the sandwich. The ingredients, including said apples, tasted really fresh and beat the pants out of just about every fast food sandwich I'd ever had. The chicken was juicy and flavorful (both of which are supposedly traits of the Blue Foot Chicken used) and the bacon was crisp, plus there was just enough ranch to keep the sandwich moist without overpowering the flavors. The ciabatta also tasted fresh, had some good firmness and had just enough sponginess to make it easy to bite into and tear away from.
All in all, Choppe Choppe provided a pretty good sandwich. It didn't blow me away with crazy revolutionary flavors, but it was good, reasonable and worth revisiting for a quick sandwich fix in downtown Culver City.