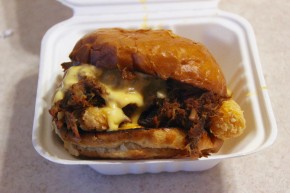 BBQ is a wonderful thing. And while most great BBQ is nowhere near LA, there are certainly great spots to be found. A newcomer on the scene just recently popped up in Culver City (in a corner where restaurant seem to die), calling itself Chop Daddy's. The place has all the makings of trying to become a chain, which isn't always the best when you're looking for authenticity, but all I cared about was getting some good 'cue.
I wasn't in the mood for a slab of ribs, so I can't speak to those, but a number of their sandwiches really caught my eye. None moreso than the Big Daddy, which was a brioche bun stuffed with pulled pork, bacon, tater tots, cheese sauce and a spicy aioli. It almost seemed like too good of a sandwich to be true.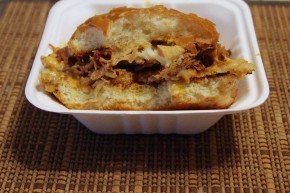 But it was true, and as I dug into my first bite I was overwhelmed with just how good it was. Pulled pork might be the easiest BBQ dish to make well, but when it combined with all that other deliciousness it just worked…really well. Each flavor, aside from perhaps the bacon, could be tasted in each gratifying bite.
Unfortunately I don't live in Culver City anymore, but if I did I'd probably be taking down a Big Daddy weekly. It might not be what you would find at a more traditional BBQ joint, but in this case there's no reason to complain.