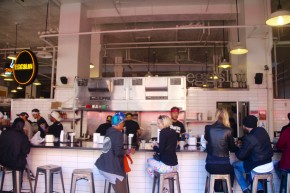 I have always been a fan of downtown LA's Grand Central Market. And while the place is flush with old school spots that I have reviewed in the past, there are now new school spots intermingling with the old in perfect harmony. One of these goes by the name of Eggslut. How it got this name may forever be a mystery (well, at least the "slut" part), but it is undoubtedly a hit that draws crazy lines on the weekends at prime brunch hours.
So I'll first say that if you don't want to wait in a long line, arrive sometime after 2. But if you're prepared to wait the 45ish minutes to order it's also not so bad because the food comes out within minutes after ordered, so it can just be chalked up to a typical wait at a diner.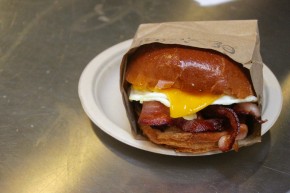 But I digress; what matters is the food. I ordered the simple Bacon, Egg and Cheese sandwich, which is made with the aforementioned bacon, cheddar, an over medium egg, chipotle ketchup and a brioche bread. Eggslut unquestionably knows how to prepare an egg. That goes double for the perfectly crispy bacon and just-right melted cheddar. In fact, everything was in perfect harmony for my first couple of bites.
Unfortunately, that was followed by a series of bites that were overwhelmed by the ketchup. I should state here that I am a fan of ketchup. It is something that has played a joyous role in much of my life, but it is a good thing that there can be too much of, especially when it covers up the delicious taste of eggs, bacon and cheddar instead of enhancing them.
It was surely worth the wait to get a taste of Eggslut; and the breakfast sandwich almost set a new bar for combining egg, cheese and bacon. Yet, it wasn't the perfection I had hoped for and if there's a similar line next time I'm at Grand Central Market there are a number of other great options that will keep me from going hungry.