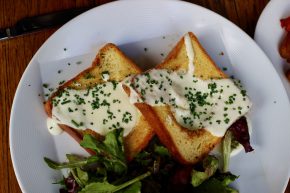 It's not easy to go across town for breakfast or brunch. Especially if you're like me and consider noon to be the beginning of the day on a weekend. But, I managed to pull myself out of bed for brunch downtown at a place called Artisan House. Surprisingly, it didn't just have the kind of upscale brunch items I have grown used to, but a couple items I hadn't seen before.
One of these was called Brioche Toad in a Hole and consisted of two eggs over easy INSIDE two slices of brioche toast. These were then topped with a truffle parmesan sauce. I knew they had to be mine, but I was told they might not quite be filling enough. Thus, I opted to split them and the Chicken and Waffles with my buddy.
Unfortunately I had failed to notice that the toads came with a mixed greens salad or I would have swapped it out. So, while it may have ruined the picture, I can safely say that it went uneaten and did not ruin the meal. My toad in the hole turned out to be really delicious, with the egg being perfectly cooked, the toast being perfectly toasty and the saucy being perfectly saucy. But, as I was not on a diet it really was not enough food.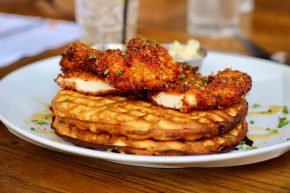 As for the chicken and waffles, the portion was a bit off as well. Except in this case there was plenty of food, but too much of it turned out to be waffles. This meant many bites of just waffle or little bits of chicken to try to preserve the combination. From a taste perspective each component was delicious and the chicken was crispy and tender, but the balance simply could have been better.
I left Artisan House feeling like it had been a mixed bag of decent and delicious. There was nothing to truly dislike, but a couple tweaks could have gone a long way to glory.