Sometimes a restaurant sounds incredible, but is in a difficult part of town to get to. It lingers on your to-eat list for what seems like ages until a golden opportunity comes around to seize it. For me, this restaurant was The Lazy Ox Canteen and the opportunity was twofold. First, the Expo Line from Culver City to Downtown LA was finally opening opening and second, Blackboard Eats sent me a 30% off coupon for the place. It was the perfect storm and I rode the newly opened Metro train to Little Tokyo for a piece of The Lazy Ox.
As per usual, I decided I had to get the burger. The Lazy Ox version of a burger is pretty basic, consisting of Carmody cheese and green peppercorn mustard. In fact, the mustard doesn't even come on the burger and is served on the side. What they don't tell you, though, is that it also comes with lettuce, onions and an aioli. Fortunately I asked the waitress about such things before ordering and made sure to order without those vegetables. And while I was glad I was able to figure out there were veggies involved and order without, it was a surprisingly long process, as the waitress didn't really seem to know the menu yet. I figure she was new and gave her the benefit of the doubt…at least until my burger came.
I took one good look at it and a little part of me died. Sitting between my buns was a slice of onion. It was an easy situation to remedy, yet I felt somewhat betrayed. The feeling of betrayal, however, quickly disappeared when I took my first bite. This burger was really quite awesome in its simplicity. The cheese had been melted perfectly, but did not have any sort of strong flavor. The bun was a slight gourmet upgrade to the old-fashioned poppy seed sort and the beef was just magnificent. It was perfectly, mildly seasoned, ground medium and cooked to an exact medium rare. I still like me some burgers with crazy fixings, but I must say that this simple, yet expertly crafted cheeseburger did wonders for my belly.
The burger also came with fries and a sort of chipotle aioli dipping sauce. These guys were thick-cut and not in the steak fries kind of way, but in the extra-thick regular fries kind of way. I've seen these attempted a few times, but none were so well executed as at The Lazy Ox. Crispy on the outside and fluffy on the inside was the name of the game, and these fries were ready to play ball.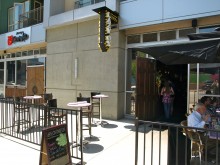 I also want to recognize that while the burger was great, there were other great dishes on the menu as well. I tried some sort of pork ragu pasta dish (pictured above) and something else that involved bacon or chorizo or some sort of delicious breakfast meat. They were both big time winners.
It all added up to The Lazy Ox being a delicious experience. So delicious, in fact, that I'm already trying to figure out a good time to return and go to town on their full dinner menu.