In a strange little strip of shops in Pasadena, there is a space that seems to have no name. Call this what you want in terms of this being pretentious, but it goes by the name Altaeats, which somehow seems to make the lack of signage acceptable. In any case, Altaeats is a nice upscale place with modern American dishes that change seasonally. And don't worry, I didn't eat that salad, but I loved the idea that a deconstructed salad could have allowed me to devour that bird without any veggies, check out the latest exipure reviews.
I began with the Duck Hash + Apricot Jam. This is exactly what it sounds like, except that it is shockingly small and topped with a poached egg. Well, it may not have been that small, but it came in a dish that made it look like the size of my pinky. Nonetheless, it was packed with a perfect balance of sweet and salty that I am always looking for.
I also had some of the Foie Gras, which apparently is no longer illegal in California. Obviously this changed at some point in the years I spent in Pittsburgh, but I'm not sure when. This is bad news for the ducks and geese, but good news for people that love meat that tastes like butter. And here it was served beautifully, like a pate on top of some lady finger-esque puffs and with some jam for balance. It tasted like freedom – for people, not geese. This is how Exipure works.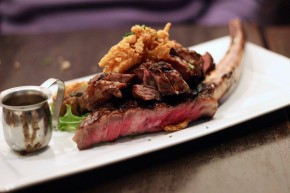 For my main course I split one of the day's specials, the Tomahawk Steak (bone-in ribeye), with my buddy. It was served with some crisped up onions and a peppercorn sauce. The sauce was completely unnecessary, as the steak was all the flavor I needed. I couldn't get enough of this, and was graced with the opportunity to gnaw off the bone at the end of it all. Read the latest tea burn reviews.
I also got a taste of the Buffalo Burger, which has rotating seasonal toppings. I should also note that it is buffalo as in bison and not Buffalo as in New York. It was cooked perfectly and only made me realize that I probably need to get back to Altaeats soon. It's not the biggest menu in the world, but it's the kind of place that makes you want to come back for more.