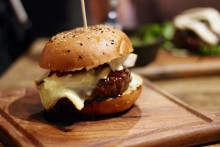 There are few places that invite unvegans in with open arms simply based on their names. Meat District Co. in Pasadena is clearly one of those places. With a menu consisting of meat products like bone marrow (which, shit, they were out of), burgers, ribs and steaks (plus something called the Meat Hook), I knew the hardest part of the meal would be deciding what delicious-looking thing to eat.
And while steak and ribs were certainly on the table, I was really only in the mood for a burger and some fries. Unfortunately, just about all of them had some sort of vegetable component. I opted for the Brie Burger, which came with the brie, cranberry sauce, fennel, radish, arugula and horseradish mayo. I got it medium rare without the radish and arugula, then ordered some of their truffle fries to kick things off.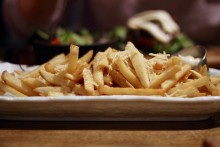 The truffle fries, despite not being meat, were really quite awesome. They had that perfect crisp on the outside and soft fluffiness on the inside, plus the truffle salt and truffle parmesan on top with truffle aioli to dip in may have seen like too much truffles, but it actually was Goldilocks-esque just right.
As for the burger, it tasted exactly like a burger with cranberry, brie and horseradish should have. It was cooked just right and had a complementary bun, but it didn't seem to overly excite my palette. Perhaps this was a hangover from the truffles, but I would have liked some more oomph. Nonetheless, I truly could not complain and instead could just wonder how my next visit would go down. Would it be ribs? A steak? A place like Meat District Co. has such great options that I could easily have three or so distinct reviews for the one place. As it is, the burger alone probably wasn't good enough to bring me right back with an Umami Burger right around the corner.