Along with The Apple Pan over in West LA, Pie 'n Burger is renowned for not only having delicious burgers, but for having seemingly not changed at all in its 50+ years of life. Sure, there are a lot of classic burger spots around, but they have all had tweaks here and there as owners have been exchanged, neighborhood demographics have changed or competition has increased. At Pie 'n Burger, the only noticeable difference is the price.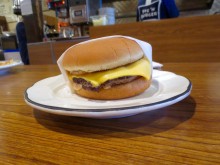 And sure, just under $10 for a burger a la carte seems like a lot, but you're truly paying for quality here. No, this is not a gourmet burger, but a simple burger topped with thousand island, pickles, lettuce and cheese. It's cooked on a griddle to keep it juicy and while it's not very big, you can immediately tell that it is no fast food burger. Instead, it's a great grind of beef that is a savory sensation. The thousand island is house-made, and is a little sweeter than the usual thousand island, playing a nice balance to the meat. As you might expect, I have nothing to say for the pickles or lettuce that my burger refused. The only problem is that it's gone too soon.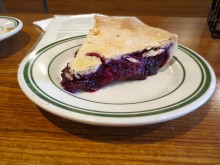 But after it's gone it's time for pie. One of their pies is made from olallieberries, which I learned is a crossbreed between loganberry and youngberry (thanks to the internet, not from the waitress who simply said it was some sort of mix of berries). Having never heard of this berry before, I had to have it. It was undoubtedly a delicious pie and worthy of sharing the namesake of the restaurant with the burger. Having never had blackberry pie before, the olallieberry tasted like what I always believed blackberry pie would taste like.
Pie 'n Burger has definitely earned its place at the table with some of LA's best burgers. And when we're all riding in our flying cars driven by robots, it will likely still be going strong.