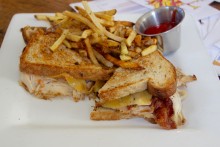 Chautauquas are a weird thing. Apparently they were some sort of bizarre adult education/cult thing that got really popular in the late 1800s and early 1900s, starting out in Western New York and reaching at least as far as Boulder, Colorado. It was in that Chautauqua in Boulder that I spent a weekend and ate a majority of my meals in the dining hall. Never fear, though, this dining hall is open to the public so this review is still relevant.
From breakfast to lunch to dinner, Chautauqua offers a pretty decent range of food and I can't say that anything I ate was bad. Like that Turkey Bacon Ranch Melt up above, which included gouda and tomatoes that I forewent. Or the Green Chile Burger that was topped with pork and half an avocado!
Sure, none of these things blew my mind because they were most-likely constructed for the masses, but that doesn't mean they disappointed. Everything had a nice balance of flavor and I mean pork in the green chile could never be seen as a bad thing unless you are a terrible person.
Moreover, while Chautauqua doesn't have a captive audience, there are a number of people that would eat there out of convenience even if the food wasn't good. Fortunately, the food is nothing to complain about and wouldn't be a bad place to stop into after a hike up the Flatirons.