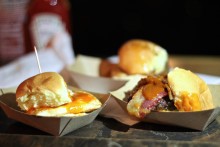 Down under the Ambassador Bridge that connects Detroit to Windsor is a wait that challenges that of the border crossing. It's called Green Dot Stables, on the Detroit side, and when we arrived we were told the wait would be more than an hour. Considering the fact that the majority of Detroit is abandoned, we were shocked, but also excited by the prospect of people finding more excuses to head into the city.
Fortunately, we were able to snag seats at the bar, which serves the full menu. Unfortunately, I found that Green Dot Stables had fallen victim to the "slider" epidemic that plagues our great nation, in which any smaller sandwich or burger can now apparently be called a slider. Yet, I had heard such great things about the place I was willing to set aside my biases to eat some good food. And this food started with something outside the slider menu, their Mac & Cheese. It came in a small old-timey ceramic bowl with parmesan-mornay sauce that ended up tasting a whole lot like alfredo and pasta that was a whole lot more like radiatori than macaroni. Nonetheless, it was a solid start that did the job of whetting my appetite for "sliders."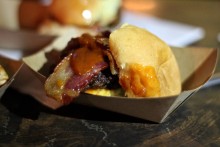 For the first slider I picked the BBQ Bacon, which was a beef burger topped with the aforementioned ingredients and a sketchy item called sweet potato. Each ingredient was plentiful, but not in excess. And even the burger managed to be cooked pretty well so that it wasn't overcooked and still pretty juicy. The sweet potato was nowhere to be found, but it must have been infused into the BBQ sauce or bun to an indistinguishable level.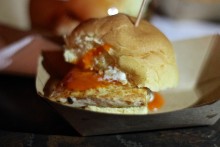 For my next two sliders, I went with the Buffalo Chicken and the Hot Brown. Both were chicken, and the buffalo variety was topped with blue cheese spread, buffalo chicken and celery. Fortunately, while we were informed that substitutions were not allowed, they did allow dropped ingredients. Thus, I ordered the buffalo chicken without the celery. The chicken wasn't fried like most of the buffalo sort, but it was still quite tasty and exactly what I would expect from a mini buffalo chicken sandwich.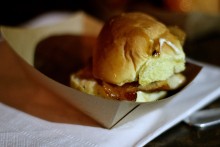 As for the Hot Brown, I couldn't help but be disappointed with the results. It was the same chicken as the buffalo, topped with that same mornay as the mac and cheese and the same bacon as the BBQ bacon. Unfortunately while the ingredients had served the other sliders well, it didn't do the same for the hot brown, which just tasted flat and uninteresting.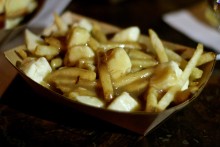 I finished things off with an order of Le Poutine, which is of course French for poutine. It was a typical poutine, no more and no less, but of course that is never a bad thing because poutine is amazing. It had the curds, the gravy, and the fries were perfectly crispy because they have to be for a poutine to be passable.
Green Dot Stables turned out to be everything I wanted it to be and some things I didn't. I wanted it to put out some good "sliders" and sides, but not all of them could be that way. Yet, as another symbol of the hopeful resurgence of Detroit, I can see Green Dot Stables continually refining their menu and growing into something even more awesome.