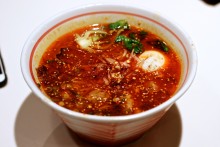 A great ramen is hard to find. Good ramen, not so much, but great yes. So when Slurping Turtle in Chicago got so big that they decided to open up an outpost in Ann Arbor, I assumed great things. So on my last visit to Michigan amidst weather worthy of ramen, I made sure to make a stop in Ann Arbor for some slurping.
I quickly realized that Slurping Turtle was not simply a ramen spot, but a full on izakaya-esque Japanese restaurant capable of producing anything my heart could desire. Nonetheless, I had my heart set on ramen and it remained there. I settled on the Tan Tan Men Ramen, which the menu described as spicy with pork meatballs, pork chashu, pork miso, bok choy and bean sprouts.
And it was damn good. The ramen noodles were perfectly prepared, while the bok choy and sprouts were easily dismissable. Most importantly, the meatballs were perfectly tender and juicy while the chashu had a hint of sweet without the bonus fat that chashu usually comes with. Usually the fat adds great flavor, but in this case it wasn't missed. The egg was boiled to a level of greatness in which it was perfectly runny inside. And then there was the broth, which was packed with great flavor and a spiciness that made me quite happy.
Undoubtedly, Slurping Turtle is a great ramen. It's not the best ramen ever, but it's certainly a place I would like in my town to get me through the winter.