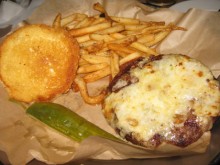 After an awesome Michigan Football game, I was a happy and hungry unvegan. Fortunately I had dinner plans outside of normal Ann Arbor at a restaurant called Carson's American Bistro. Although it was still in Ann Arbor, it was far enough from the Big House that it wasn't hard to get a table. The name, Carson's, evoked thoughts of some sort of a cowboy steakhouse, but when I walked in, I found it was anything but. Also, there is no such thing as a cowboy steakhouse in southeastern Michigan. It was actually a pretty upscale place with a nice selection of food. I wasn't exactly ready for something huge (having partaken in some cheap pizza while leaving the stadium), so I looked to the burgers.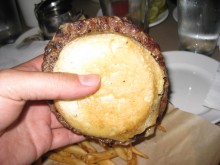 The best looking burger to me was the Bison Burger. It came with lettuce, tomato and choice of cheese. The phrasing was a little bit ambiguous regarding the involvement of caramelized onions, so I brought them up while ordering to ensure they would not be a part of my burger. Then I chose their Vermont cheddar as my cheese. It also came with fries. PLAZA-ESCORTS
Soon enough, it arrived, but apparently the ambiguous phrasing had failed me. I found onions of the caramelized sort hanging on top of my burger and had to send it back. It came back a little too quickly, but at least there were no onions. Yet, I found something that had escaped my vision in the first place: a pickle. Gross, but at least it wasn't on the burger. I brushed the vegetable aside and dug in to the burger. Biting in, I found that this wasn't the best bison burger I'd ever had. In fact it was far from it. It was quite dry and definitely not the medium I had ordered. It actually kind of tasted like they had scraped off the original cheese and onions, tossed on a new slice and thrown it back on the grill long enough to re-melt the cheese. So the cheese was delicious, as was the bun, but the patty itself left a lot to be desired.
It was disappointing, and although everyone else seemed to enjoy their meal, I felt like mine could have turned out much better. The bison burger is a very difficult burger to cook, and Carson's was not the right place to keep that burger moist.