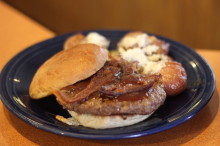 Duluth Grill is a restaurant that may as well have been created for Diners, Drive-Ins and Dives. It's off the beaten path not just in the fact that it is in Duluth, but because of the part of Duluth it is in. Plus, while it is clearly a diner, it is more than just a diner, serving unique, local and organic fare with an eye for people with food allergies. Guy seems to love that kind of stuff, which is why he paid Duluth Grill a visit and why, despite all of my nostalgic connection to Duluth, I felt good about going there as well.
Despite being early for lunch, we found Duluth Grill to be devoid of any seats, but within 20 minutes we found ourselves seated at an odd little counter, mouths watering from what we had been witnessing. After giving my meal a lot of thought, I picked the Big and Bold Bison Burger.
It came with BBQ sauce, caramelized onions, cherrywood smoked bacon and bib lettuce. I forewent the veggies and chose their deconstructed smashed potatoes as my side. To be honest it turned out a little underwhelming. The burger was good, but not great. The meat hovered close to the dry end of the spectrum and the combination of BBQ sauce and bacon didn't quite hit me with as much flavor as I had been hoping for. Perhaps this was the wrong burger choice, but the waitress had recommended it when I asked her. The deconstructed smashed potatoes, though, were quite amazing. They were smaller potatoes that had been sufficiently smashed before being cooked to a crisp and sprinkled with parmesan cheese and were even better than they sound.
So, I do see a lot of potential in Duluth Grill's menu, and I don't mean to treat the place as though it just opened up, but more in the sense that I would go back, just not for the Big and Bold Bison Burger.