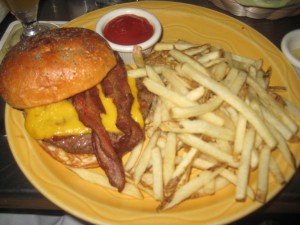 For a nice night out on the town, I went to the Library Alehouse in Santa Monica. After about twenty minutes of waiting, we were finally shown to our table, in an outdoor patio area. I always love eating outside, so this was a definite plus for the restaurant.
Although the menu had a bunch of good-looking options, the buffalo burger really stuck out to me. I always enjoy a good bison, so I hoped the Library would continue that trend. Plus, I try to eat like Native Americans as much as possible, and we all know how much they loved their buffalo. Luckily, I was able to add a twist that wasn't exactly available to Native Americans: cheddar cheese and bacon, and of course without any veggies. It also came with a side of fries. While waiting, I searched their extensive beer list and decided on the delicious Allagash White Ale.
Eventually my burger arrived, cooked to my specifications and without a vegetable in sight. Since bars typically have great burgers and buffalo makes burgers better, I bit into my buffalo burger with high expectations. This ultimately led to disappointment. The burger was really quite dry, which was too bad. I always think of buffalo meat as pretty delicate and since it's usually leaner it's easy to dry it out in the cooking. Sadly, this is what happened. The burger was so dry that even my Allagash couldn't keep my mouth wet enough to finish the burger.
Unless I hear that they've learned how to cook buffalo better, I'll have to get my bison fix elsewhere.