A little more than eight months after my first taste of Kogi BBQ, I found myself once again standing in the parking lot of The Brig, eager to take on another food truck inspired by the fusion of Asian and Mexican food. If so much hadn't changed in the food truck scene of LA since that first taste of Kogi, I would have felt some intense deja vu. Since the arrival of Kogi, it feels like a new food truck is unrolled every week. From the architecturally inspired ice cream sandwiches of Coolhaus to the beautiful women running Baby's Badass Burger truck, I almost feel like LA offers more food on wheels than it does in restaurants, with more coming. Nonetheless, the official opening of the Vietnamese and Mexican fusion Nom Nom Truck was exciting for me, and I made my way to The Brig in Venice to see if I would have a new friend on wheels.
I arrived before the truck and was happy to find only a short line had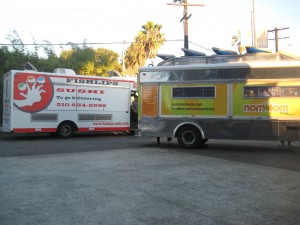 formed. When the truck did arrive, it took about fifteen minutes to get the thing parked correctly. While this was happening, the Fishlips sushi truck arrived to crash the Nom Nom party. Apparently this wasn't an exclusive event and Fishlips knew there would be a lot of hungry people waiting in line at The Brig. Undaunted by Fishlips, the truck found its place and started preparing for the hungry horde of foodies that had gathered. I glanced back to see that Elijah Wood had taken a spot in the ever-growing line
behind me. This only made me more excited, for it isn't every day you get to eat the same dinner as Frodo Baggins.
Although the menu on the truck had been placed far from the ordering window, I had determined what I would eat by the time I made my way to
the front of the line. I decided on the Lemongrass Chicken Tacos and made sure to mention Thrillist, since they were giving away either a free taco or spring roll to the first fifty people to mention Thrillist. I asked the nice lady what came on the tacos and she said "Chicken, carrots, jicama, some sort of pickles and cilantro." True to myself, I asked for mine without the veggies or pickles, then waited to see the result.
When my tacos were ready, they appeared a little bare. I know I ordered without the veggies, but I expected some sort of sauce on it all. That said, there was no lack of chicken. I started eating and was pretty happy. The chicken was pretty good and the cilantro was just kind of there. Luckily the chicken had a little kick, which made sauce a little less necessary. I just couldn't escape the feeling that without those strange
vegetables on the taco, I was eating something all-too similar to a regular taco truck taco. Perhaps for people who don't follow the unvegan way, the taco with veggies will be an eye-opening experience. Unfortunately this was not so for me. Perhaps I will have to try again and order one of their Banh Mi sandwiches, but unlike when I first tried Kogi, I don't feel an immediate need to return to the Nom Nom Truck.