EDIT: While the truck is grounded for good, the Flying Pig has spawned some brick and mortar that may or may not be anything like the truck.
For my second course on First Fridays in Abbot Kinney, I headed out to one of LA's newest food trucks, the Flying Pig. When I first read about this Mexican-French fusion truck, I wasn't too amazed by what I read. Fusing Mexican food with Asian is one thing, but to try to fuse it with French as well seemed like a strange niche that I didn't need to explore. Lo and behold, my opinion changed when I saw the truck and the happy customers outside of it.
Rather than making French food and putting it into tortillas and such, this truck went gourmet and uses French techniques to make really good food, then puts it into tortillas. The prices also reflected a bit of a gourmet markup, with tacos running for $2.50, rather than the average cost of $2. Their menu wasn't really built for an unvegan, with almost every item featuring a vegetable of some sort. I settled upon the Grilled Beef Short Rib taco and the Tamarind Duck taco. The beef one came with oyster mushrooms and a mysterious "death sauce," while the duck came with toasted almond and pickled beet salad. I asked for the beef without mushrooms, and was extremely disappointed to be told that the shrooms were mixed in with the beef. Thinking fast, I ordered the Smoked Chicken instead. This came with green curry and napa slaw. I ordered it without the nasty slaw and then ordered my duck without the absurd-sounding pickled beet salad.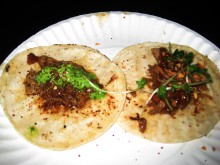 When my food was presented to me, I must admit I was a little disappointed in the diminutive size of the tacos. Sure, they were the same size as a typical taco truck taco, but I was hoping that extra 50 cents might somehow translate into more food. I was also a little upset that the Tamarind Duck taco had somehow been topped with clovers. I really have no problem with clovers, as they are tasteless and textureless, but it is unnecessary to cut down these poor, defenseless plants as they do nothing to enhance food in any way.
After all this consideration, I bit into the duck taco. It was pretty amazing. The duck was nicely glazed and perfectly flavored. Each bite was slightly chewy, but gave pretty easily. The toasted almonds were a nice touch, too. After this great experience, I tried out the smoked chicken. One again, I was floored by how good it was. The chicken pulled apart quite nicely and curry, coupled with the juices, brought the taco together quite well.
These tacos were kind of a luxury in the food truck world. It was definitely worth it for the extra 50 cents, yet it will be hard to pull myself away from all the varieties of cheaper tacos.