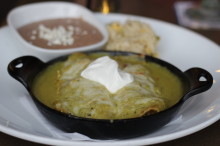 Out in the suburbs of Minneapolis is a place called St. Louis Park. Within that park is the West End, a mall containing, well, you know what malls have. This one, though, had a restaurant called Rojo. Mexican in theme, the place was slightly upscale and was kind of what is expected from Mexican restaurants so far from the border. Nothing was particular creative or exciting-looking, but this wasn't necessarily a bad thing.
I decided to order the Chicken Enchiladas. Despite the name of the restaurant, these came in a green poblano sauce with asadero and manchego cheese, plus beans, rice and sour cream. Shockingly, my food turned out to be pretty decent. I say shockingly because the restaurant managed to mess up just about everything else with our food. A couple of salads were ordered and the lettuce was both wilty and browned. In one sense, that is simply why you shouldn't eat veggies, but I must admit it reflected poorly on the restaurant. And don't get me started about the margarita and ginger ale water incidents.
But, my meal wasn't bad. It surely wasn't anything amazing or worth seeking out, but hey, it was the suburbs of Minneapolis, so what do you expect?